Airfix Railway System
Airfix first introduced railway related items to their plastic construction kit range in 1957. By the 1970s this had grown to a very comprehensive selection and included not just lineside items but locomotives and wagons. These items could be seen on many layouts and were often 'kit-bashed' to enable them to run on the track. By the mid 1970's the ready to run market in the UK was rather stagnant and much of the existing rolling stock, some of which had been around for many years, was lacking the detailing and scale accuracy that the modeller was demanding. Airfix saw this gap in the market and decided to introduce a 'ready to run' range taking advantage of the modern moulding technology that was available with the reduced costs of Far East manufacturing .
The 'Ready to Run' range was introduced at the Harrogate and Brighton Toy Fair in January 1976.

The first catalogue was the 1976/77 Edition and it sold for 10p. There was a long introduction in the catalogue giving details of the aims and features of the range. It showed details of the new locomotives, coaches, wagons and sets as well as items from the existing construction kit range The first items available were three Sets and they were released in time for Christmas 1976.
The original three Sets
The Wild West Adventure Train Set made use of an existing H0 model of a Central Pacific Rail Road 4-4-0 'Jupiter' from Bachmann in America together with matching action coaches and lineside features.
There was also an Airfix/Bachmann Wild West Freight Train Set which included a Union Pacific 4-4-0 No.119 with two box cars and a caboose.
Airfix designed a set of their own and this saw the introduction of their own rolling stock. It was called the Dr. X Adventure Train Set and contained a Class 31 diesel locomotive, a Mk2 Inter-City coach, a ventilated van and a Lowmac with a fixed container lorry load. For accessories it included an articulated lorry, a pickup crane truck and a level crossing. There was also an action tunnel that contained a radar scanner and rocket launcher.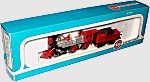 Jupiter in original style blue box.

The individually boxed stock
In 1977 the first Airfix Locomotive released was the Class 31 of the Dr.X set, and was available in both BR green and blue liveries. There were also Mk2 1st open and brake 2nd open coaches produced in Inter-City blue and grey. A Class 61XX Prairie tank was also shown in the 1st edition catalogue which was to be available both in GWR green livery and BR lined black. To go with the Prairie there was a GWR suburban B brake coach and a Toad brake van. The Lowmac wagon with a crate and the ventilated van were also shown as being available separately.

In 1978 three new steam locomotives, three more coaches and an additional four wagon types were introduced in a range of liveries. The new locomotives were the 14XX GWR 0-4-2 in GWR green and BR lined green, the 4F 0-6-0 in both LMS and BR plain black and a rebuilt Royal Scot which was in either LMS lined post-war black as 'Royal Scots Fusilier' or in BR green as 'Royal Scot'. New coaches were a push-pull autocoach for the 0-4-2 tank and Stanier corridor composite and brake end coaches for the Royal Scot. Coaches were offered in both pre-Nationalisation and BR liveries. The new wagons were a 5-plank, a 7-plank, a Conflat with container and the Lowmac with a 20' Sea Land Container.
In 1979 a GWR Castle Class Locomotive was introduced and to go with this loco there was a pair of GWR Centenary coaches. 1979 also saw the arrival of the GWR steel mineral wagon, the 20 ton tanker and the SR box van.

The introduction of Airfix GMR
This happened in 1979, the name of the range was changed to GMR, this stood for 'Great Model Railways', and was designed to help distinguish the 'Ready to Run' range from the Airfix plastic construction kits. The original Airfix Railway System packaging had been light blue but it was now changed to brown with orange decoration and it carried the new GMR logo.

The design of coupling was also changed. The original Airfix couplings were of an unusual, at that time, design being small and inconspicuous.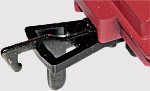 Now a larger tension-lock coupling was fitted, but, with the same mounting system so that either type could be fitted.
Finale
In 1981 with the parent company failing, the Railway System was sold to Palitoy who produced the "Mainline" range of models. The GMR range, including items which were due for launch, was absorbed into the product range and continued under Mainline. The Airfix GMR moulds passed to Dapol when General Mills wound up its European toy operations in 1985. Dapol subsequently sold the Airfix GMR moulds to Hornby